Slag Recycling – departments in Poland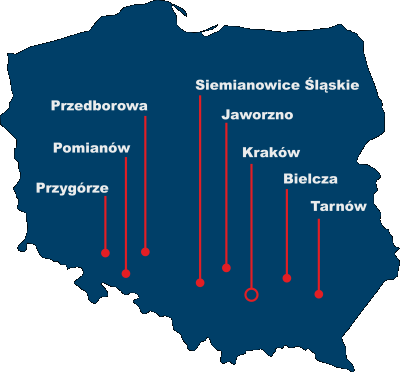 The mission of the company is post-industrial land restoration and supply of the highest quality raw materials destined for road building, building industry and metallurgy in Poland. Our aim is to deliver professional services within the range of products offered at competitive prices.
The Company owns a sophisticated equipment of high production capacity allowing for the efficient order processing and thus indirectly contributing to a promptness of road investment execution.
Slag Recycling is a pro-community company. It provides the local community with financial means, helping schools and charitable institutions.
Exploitation of metallurgical slag dump and the production of full-value road aggregates allows:
limited exploitation of gravel aggregate deposits, thus protecting the natural environment .
creation of a resource base for construction companies at competitive prices,.
recovery of land under dumping area (processing slag faster than it is delivered by steelworks).
A proof of our efforts to maintain the highest level of products is the implementation of the Quality Management System in accordance with standard ISO 9001:2000 and Environmental Management System according to standard ISO 14001 as well as obtaining certificates issued by TÜV CERT.
By taking advantage of SLAG Recycling products you contribute personally to the protection of the environment.
We encourage you to cooperate with us!