Przygorze – information
Heap of red shale is located in Przygorze – Lower Silesia province. The slag heap came into existence in post-war years in the result of the activities of the Mine of the hard bituminous coal Nowa Ruda.
In 2009 company Slag Recycling began the production of aggregate being a mineral blend of the natural stone here broken (gneiss, slate, sandstone, gabbro, and the like) in the past rinsed out of coal which later in thermal processes on the slag heap surrendered to burning.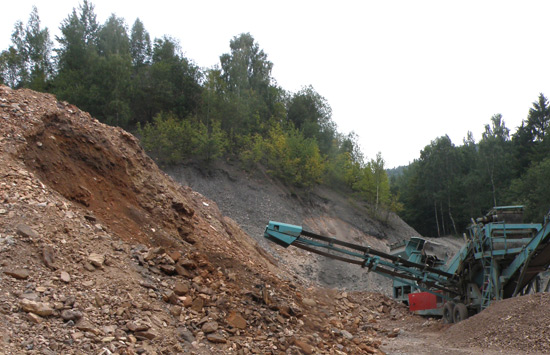 Mineral blends gained as a result of crumbling and sieving from łupka burnt Slag Recycling excellent parameters which in many cases they are taller have parameters of aggregates get from natural abundance.
Undoubtedly a very good water-pervious-ness is their virtue and compactibility which as a result lets for getting bases about the high popularity. Thanks to that construction investments are long-lasting and of very good quality.
Low bulk density (in the loose state c 1.4 Mg/m 3 ) lets great frugalities (even 15-20%) in the building development towards natural aggregates and broken lines.
Based on had examinations they stated that the burnt slate from Przygorze could be applied in the civil engineering of bottom and upper layers to do of road embankments, irrespective of the burden with move, in it of motorways – including layers about the increased carrying capacity, with strengthening layers, frost protective layers, draining and for levelling work in the cubic construction and exchanges of frost heave ground.